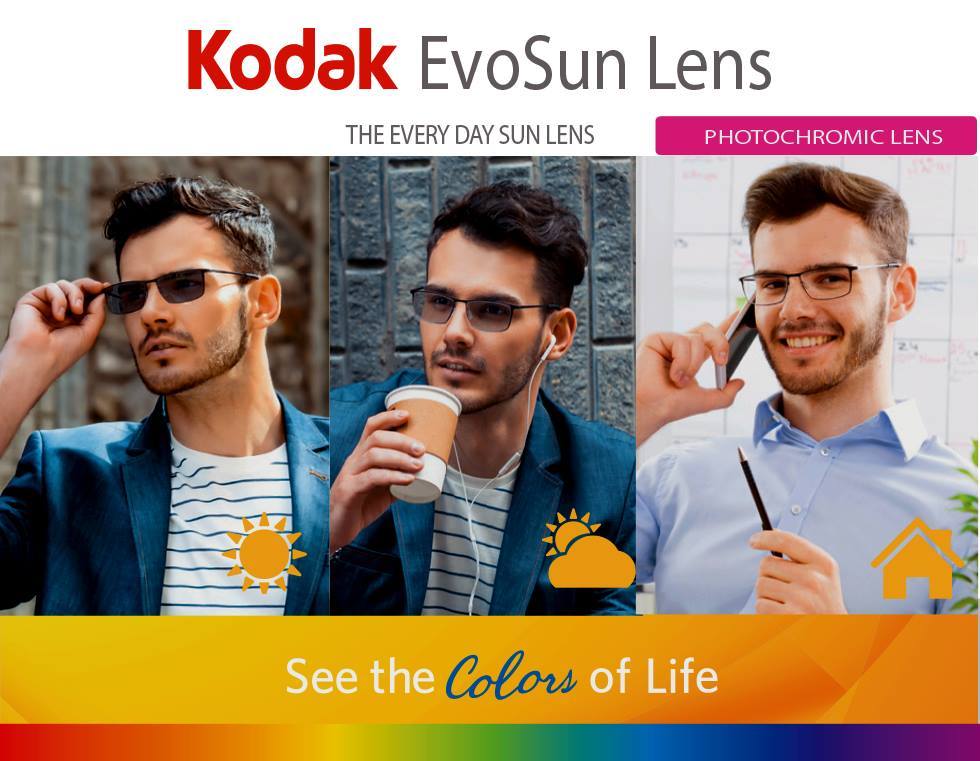 Description
The every day lens that quickly adapts to changing light
KODAK EvoSun Lenses change from light when indoors to dark outdoors when exposed UV light from the sun's rays. Thus providing comfortable viewing indoors and outdoors without ever needing to switch eyewear.
Eye Protection
Research shows that long term, unprotected exposure to UVA and UVB rays can lead to serious eye conditions such as the formation of cataracts and macular degeneration. Kodak EvoSun Lenses block 100% of Ultra Violet rays.
Indoors
Kodak EvoSun Lenses are clear indoors, behind a windshield and at night but adapt as light conditions change to provide the appropriate level of darkness outdoors. Kodak EvoSun Lenses quickly adjust back to fully clear indoors.
Outdoors
Outdoors, Kodak EvoSun Lenses automatically adjust to provide a comfortable tint that reduces distracting glare while providing clear vision. On cloudy days or early mornings when you need protection from UV rays but not a fully dark lens,Kodak EvoSun Lenses provide the appropriate shade of darkness to give you the comfort and protection you need.
Lens Protection
As an added benefit Kodak EvoSun Lenses also come with Clean&CleAR Lens Coating with Diamond Technology as standard. The Clean&CleAR proprietary top coat repels dirt, grime and fingerprints, making cleaning easier than standard uncoated lenses. Distracting reflections are also eliminated giving your eyes a clear and bright shine. Combined with super hard Diamond Technology it gives the lenses excellent wear and shock resistance thus giving the lenses a longer and more durable lifespan.
Specification