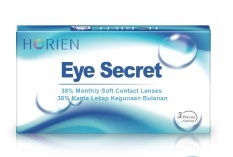 Horien Eye Secret 38% Monthly Contact Lens (3 lenses / box)
Description
Do you know?
High water content lens will absorb our tear and disrupt the normal tear circulation. Similar to the water absorbing sponge, these lenses absorb the tears. As a result, we recommend the low water content contact lens for the dry eyes.
Low water content lenses perform better flexibility and stability. And, most important of all, preserve water for the eyes to provide super comfortable.
With our perfect formula of 38% water content, plus Sodium hyaluronate and trehalose, we provide you a super moist experience!
38% Water content
38% water content can lower the speed of water loss
Keep the lens moisture and decrease the dryness feeling after long time wearing
Sodium Hyaluronate
Natural moisturizing factors
Preserved water can form water-locking protection
The factor will filtrate into the lens to lock the water from inside
All day comfort
Trehalose
Natural water lock agent
Trehalose remains stable and moisture in complete dry environment that forms the surface on the lens
Prevent the water loss to increase comfort wearing in dry environment
Edge Design
Multi-curve lens design improves eye tear circulation
Specification
| | |
| --- | --- |
| Lens Material : | polymacon |
| Water Content : | 38 % |
| Base Curve (mm) : | 8.60 |
| Diameter (mm) : | 14.0 |
| Power Range : | -1.00D to -6.00D (in 0.25 steps) |
| | -6.50D to -10.00D (in 0.50 steps) |
| Package Size : | 3 lenses / box |
| Replacement : | 30 days |
| Delivery : | 3 - 7 working days |
IMPORTANCE
1. For first time wearer, you are forbidden to buy contact lenses via online. You should visit a licensed practitioner for the proper eye test and contact lens fitting.
2. For existing wearer, you should visit a licensed practitioner for the eye test if your prescription are more than 2 years.